A commitment to making healthcare accessible and affordable for all.
Hi there! I'm glad you've found your way to MediPay. We believe in doing things a bit differently here.
For us, you and your family's wellbeing will always come first. We take this so seriously, we even take this to include the wellbeing of the non-humans (aka pets) in your life!
We understand healthcare can be expensive and with the increasing amount of finance providers in the market, it can be difficult to know who to trust and what options are truly available to you. To that extent, we are committed to operating transparently and honestly – you will never see a surprise fee or charge from us, for example.
So what do we actually do and how can we help you? Read on for a quick introduction to how we create easy payment plans for your medical, dental, cosmetic and pet needs.
Keeping it simple
We aim to keep our process as simple as possible – no need for five years worth of bank statements. Instead, we ask 5 straightforward yes/no questions, allowing you to check and confirm your eligibility in 10 seconds. 
If you're eligible, our application form takes only 5 minutes to complete and makes it easy for you to identify the procedure you're interested in.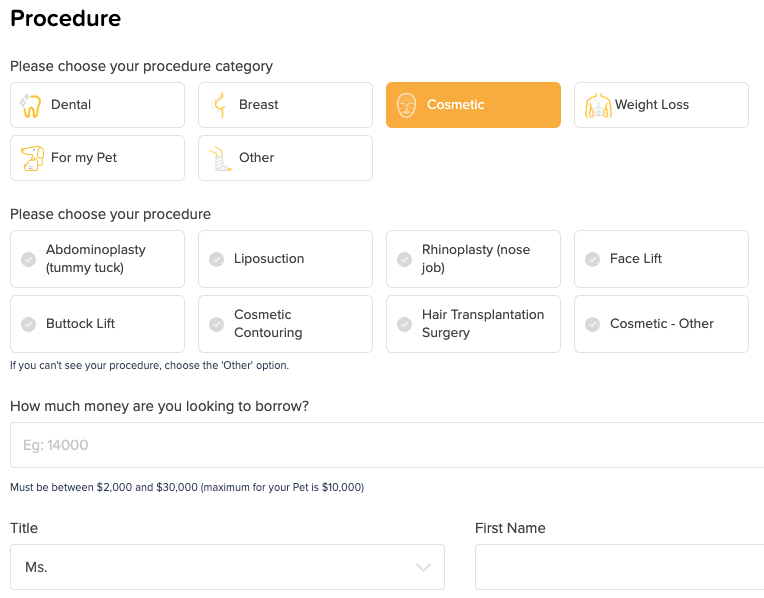 We make it clear and easy to borrow for the procedure you're after.
Our process is entirely online and we commit to giving you a response in 60 minutes or less – no waiting around for days or having to speak to a representative over the phone. We are able to give final approval and have your funds available for use the very same day.
The best part? We pay your doctor, dentist or vet directly and securely. We take the hassle of payment completely out of your hands and importantly you only pay interest on the amount you draw down. So if the procedure or treatment is less than you estimated you will not pay interest on the amount you don't use.
Secure and Private
We appreciate you've entrusted us with personal information and we take that trust seriously. We use highly secure systems and practices to ensure your information is kept safe and private.
Flexible Options
We know that everyone's life situation differs and changes. That's why we aim to provide options that can best suit your current needs.
We have payment plans from $2,001 to $30,000 (up to $10,000 for your pets) with repayment terms of up to 48 months. You choose the frequency of repayments (fortnightly or monthly) and we don't penalise you for early repayments. 
What if your procedure ends up costing less than expected? We don't lock you into the full amount you were approved for. If your procedure costs less, you pay less, simple as that. Since we help pay your practitioner on your behalf, you only ever pay interest on the amount you use.
Putting You First
You are our priority! That means we don't try to trap you into any contracts. If you don't end up using the funds you've been approved for, you pay absolutely nothing. We understand sometimes having the security of a loan alone is important for your peace of mind.
Same with repayments. You only begin to make repayments once you start drawing down on your funds.
How can you trust we walk the talk? Check out a couple of recent reviews:
Our customers are always our priority.
At MediPay, we are committed to helping people and their families access and afford healthcare. If you've been considering a procedure and haven't been sure how you'll afford it, check if you're eligible now.
Warm Regards,
Jonathan – Co-Founder of MediPay
Disclaimer: This article contains general comments and recommendations only. This article has been prepared without taking account of your objectives, financial situation or needs.  Before taking any action you should consider the appropriateness of the comments made in the article, having regard to your objectives, financial situation and needs. If this article relates to the acquisition, or possible acquisition, of a particular credit product you should obtain and consider the relevant disclosure documents before applying for the product.
All applications are subject to MediPay's credit assessment criteria. Terms, conditions, fees and charges apply.