We've previously discussed the pros and cons of self-insurance compared to private health insurance and Medicare. It's also important to know what is and is not covered by private health insurance nor Medicare generally, to be able to make an informed decision on the level of private health insurance cover you may need and to plan for any out-of-pocket expenses.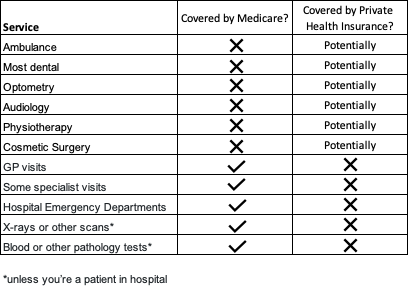 Summary of what procedures are and are not covered by Medicare and private health insurance.
What Medicare doesn't cover
Medicare does not cover for things like:
Ambulance services

Most dental services (unless deemed medically necessary)

Optometry (glasses,

LASIK

, etc)

Audiology (hearing aids)

Physiotherapy

Cosmetic Surgery
The list may seem long but there are many things Medicare does cover for! This includes being treated in a public hospital as a public patient, going to an emergency department, and seeing a doctor who chooses to bulk bill.
Private health insurance, depending on the level of cover selected, is able to insure you for many of the above health services. Note however, when choosing your private health insurance, it is important to make sure it suits your individual needs, as well as your budget.
What private health insurance doesn't cover
In general, private health insurance does not cover the following, since they are covered by Medicare:
GP visits

Some specialist visits (depending on the procedure)

Visits to public or private hospitals' emergency departments.
Unless you're a patient in hospital, private health insurance also doesn't cover:
Any x-rays or other scans

Any blood tests or other pathology tests.
Private health insurance cover is generally divided into three groups:
Hospital cover

General treatment cover (sometimes known as ancillary or extras)

Ambulance cover (Note:

some states or territories

may offer discounted or free ambulance services)
As at June 2019, 11.2 million Australians (44% of the population) had some form of private patient hospital cover, and 13.6 million (53%) had some form of general treatment cover.
Generally, any medical services which Medicare covers and are listed under the Medicare Benefits Schedule (MBS) can also be covered to some extent by private hospital insurance. 
However, services such as elective cosmetic surgery, some dental procedures and laser eye surgery are not listed on the MBS. These services can be covered by some, but not all, private health insurance policies. This makes it important to review the services covered by each policy you're considering and to note the restrictions and exclusions for each policy – not all policies are comprehensive.
When is cosmetic surgery covered?
Cosmetic surgery is more likely to be covered by private health insurance when it is considered medically necessary.
Where cosmetic surgery is voluntary or not needed to improve or maintain your health or normal bodily functions, it is considered optional (also referred to as 'elective') and not medically necessary. This means it's unlikely to be covered by any private health insurance policy or Medicare. 
These may include surgeries such as facelifts, breast augmentation and liposuction.
Your surgeon is the best person to determine if your surgery is purely cosmetic or if it's medically necessary. 
What can you do if your procedure is not covered by Medicare or private health insurance?
MediPay can help if you need help covering a medical, dental or cosmetic procedure not or not fully covered by Medicare or private health insurance. 
Our payment plans* break down the total cost of your procedure or treatment into smaller, fortnightly or monthly repayments. We do not penalise you for early repayment so any rebate you get from either Medicare or private health can be used to pay off your loan earlier.
Want to know if you may be eligible for a MediPay payment plan? Check your eligibility today.
Important Information: All surgery carries risk, and the patient must research their practitioner, the procedure, and the suitability for them, and consider the risks and any complication that may arise. MediPay does not warrant or is not associated with the quality of any practice or surgeon, and the patient must undertake their own careful research. Surgery is a serious matter and any risks and long-term effects should be considered carefully.
Disclaimer: This article contains general comments and recommendations only. This article has been prepared without taking account of your objectives, financial situation or needs.  Before taking any action you should consider the appropriateness of the comments made in the article, having regard to your objectives, financial situation and needs. If this article relates to the acquisition, or possible acquisition, of a particular credit product you should obtain and consider the relevant disclosure documents before applying for the product.
* All applications are subject to MediPay's credit assessment criteria. Terms, conditions, fees and charges apply.